In July, 2020 I started my first woodblock carving of a phoenix. Using Ulisse Aldrovandi's Phoenix print from the late 1500's as reference material, I carved an image on a 12" x 16" piece of wood. I printed the phoenix image in many iterations and went on to carve a flaming nest for the Phoenix, which was inspired by both Medieval images and Grace Jackson's musings on our weekly Phoenix Zoom meetings. Further blocks were carved with a large phoenix and a copy of the Aldrovandi phoenix, which have been used for posters, waterproof flags and accessible images for photocopying and use as wheat paste graffiti paste-ups. Stickers were also created from some of the images with the hope that location videos would be taken with phones to document where the phoenix is flying.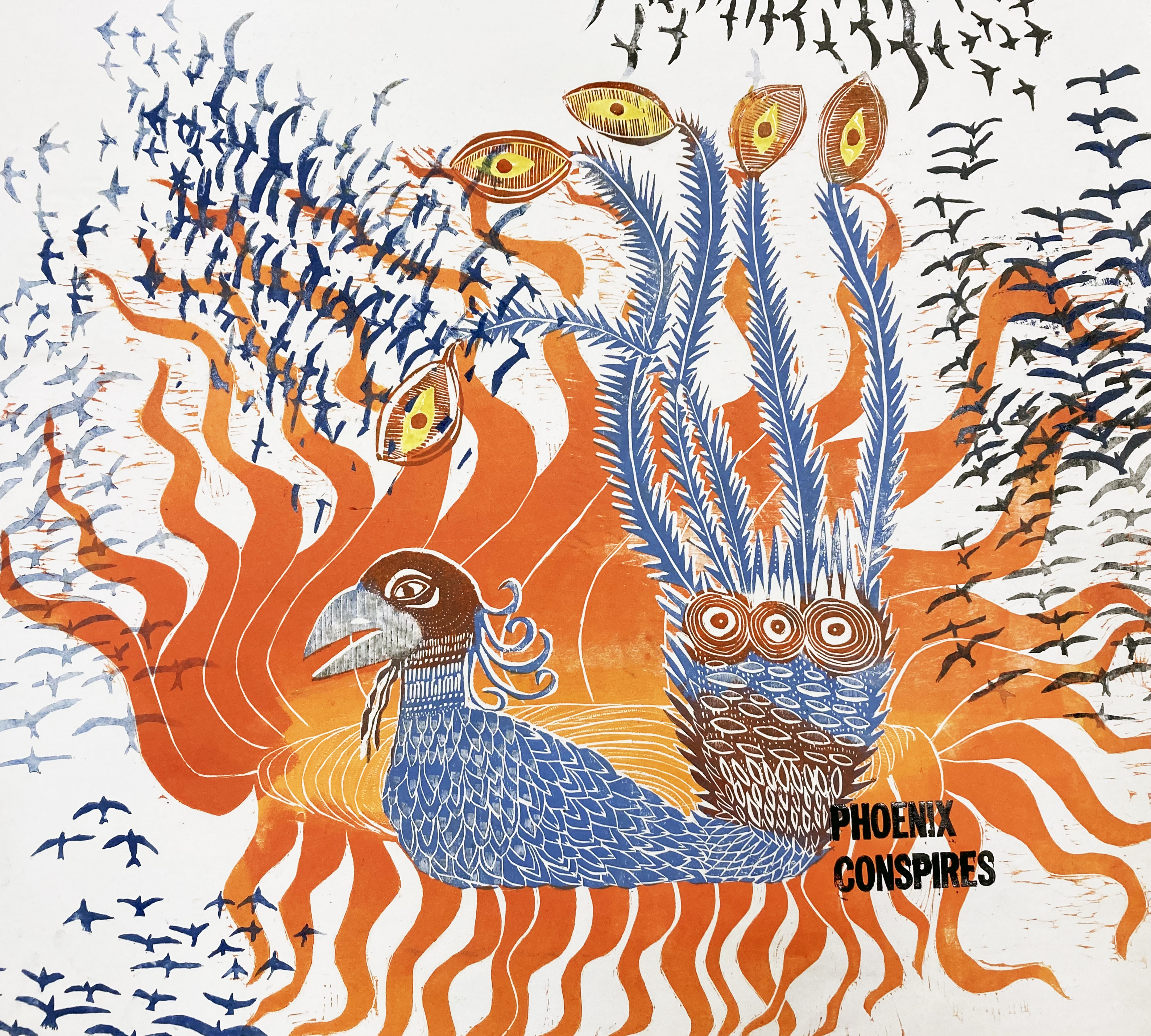 ---
Annie Silverman interviewed by Grace Jackson.

To start, please tell me your name and what you do and how you became involved with Vision Lab.

My name is Annie Silverman and I'm a visual artist, a printmaker, and a book artist. I do a lot of woodcut printmaking, and I have a studio called Abrazos Press in Somerville, Massachusetts.
I met Kythe when she was doing a masters at the Harvard Divinity School. She did a class for anybody who wanted to participate called "Poetry at the Edges." A friend forwarded me the email and I thought, well, I have time on Tuesday afternoons. So, I went and we became friends. I've participated in Vision Lab since its inception in 2017. I went the whole first year when people did presentations and we had a day-long retreat and I taught people how to make books. I was involved in two of the performances that happened at the gallery at the Radcliffe Institute, where I printed images and gave them to other participants. So, in any given project I try to find out where I can participate with what I do. The group is interesting to me. I sit and I take notes while we're all talking at meetings. I've always been very impressed with the quality of what people make and how they think about things. For example, any time Biliana says anything, she creates this kind of calm. I remember when she and Dharam did a guided meditation at one of our meetings, and it somehow felt like it was okay to kind of fall apart for a minute. It was so reassuring. Everybody has their own particular strengths and they've been brought together in this totally random way through knowing Kythe.
Do you have a spiritual practice?
I don't really have a spiritual practice. I'm culturally Jewish and I have a meditation practice, but I'm not really involved in spirituality in an overt way. I have my own personal belief systems, you know, a little bit of magic, a little bit of superstition, a little bit of "if we don't know what's going on, we might as well say thank you a lot." I have a house god at my door from Cuba that was made by a Santaria priest when I was there in 2003. I ask him to bless my house every day. He's sitting on a pile of black eyed-peas and various things that he's supposed to like. But in general, I'm more of a researcher. I like history and mythology and botany. So, with the phoenix, I started to look for images and find things that resonated with me aesthetically.
Being part of this group and being able to create images that are useful for people is good for me. Even though it's a disparate community around the world, it gives me somewhere to put my energies and my creativity.
Can you talk me through your creative process? Do you just sit down and draw, or do you work from other images?
I don't have a very strong internal visual sense and I nor do I think I draw very well. So, I'll find some image that I feel like I can work with, and I'll start with that. I found a medieval image of a phoenix in a nest and it had these flames coming off it. Visually, everything was quite flat because it was from the middle ages, and I liked that. Then I came across this phoenix image by Ulisse Aldrovandi, an Italian polymath from the 1600s. He made woodcut books of animals and insects, and he also made a book of monsters. I riffed off his phoenix image. First I do drawings, then I photocopy the image onto a woodblock and enlarge it. Then I carve while listening to books on tape. I always carve while listening to books on tape. Then I'm done, and I have to proof it. Then I start printing.
How many woodblocks have you carved for the project so far?
I've carved three, two phoenixes and one flaming nest.
Besides woodblock, do you do other kinds of printmaking?
I do lots of other kinds, like lithography, mixed media, mostly relief printmaking. With printmaking, you're making something that you can do other things with. I'm also a teacher and have been for a really long time. So, my studio is both a teaching and professional studio. Normally I have small classes and a lot of people come back and repeat the courses over and over. It's gratifying to work with a group of people over time and see them improve. I miss that little community that I have created.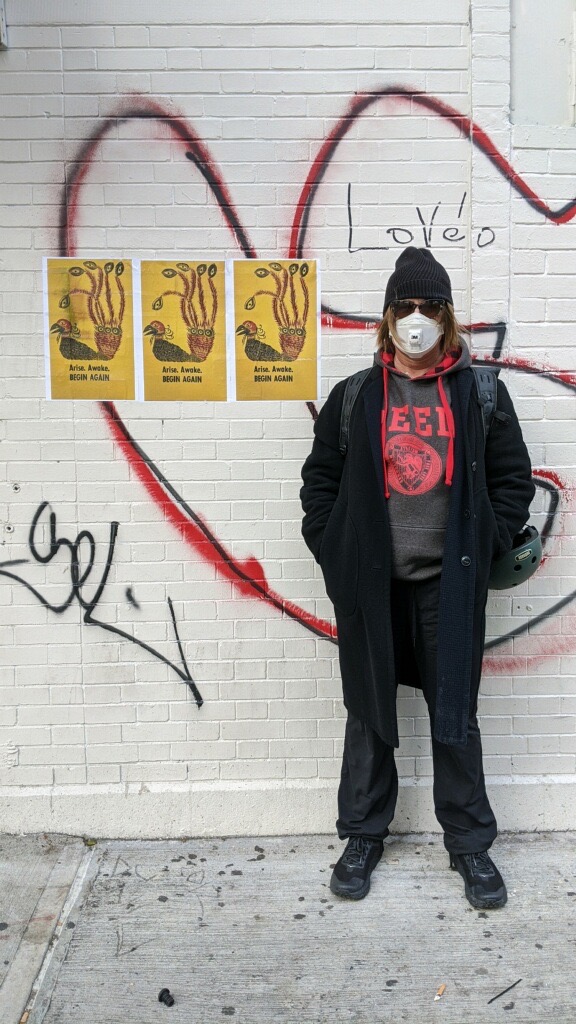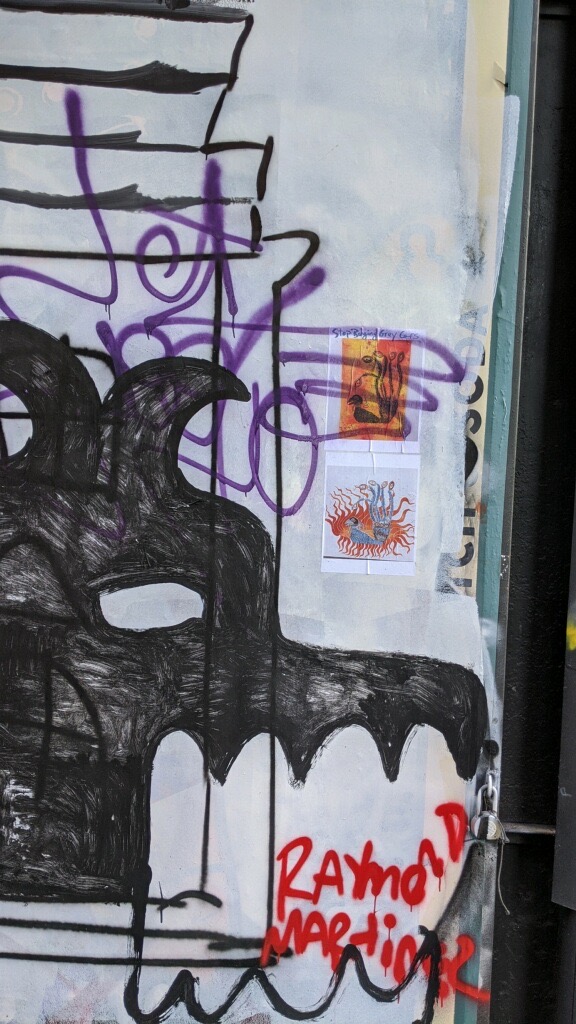 What does the phoenix symbol mean to you at this point?
I think that because I'm probably less spiritually oriented than others in the group, I think of it primarily as an image. At one meeting, someone said that every day as part of a ritual she drew a picture of an egg and drew a picture of a phoenix, as a way of incubating the idea of rebirth through destruction. It caught my attention. It was the kind of image that I latch onto and think, could I work with that?
It's a very frightening time in the world, for so many reasons. I like thinking about how things might get better through this breakdown. But the opposite of that terrifies me. Sometimes I worry that we are blithely summoning the phoenix and we don't know what it's going to mean. There are so many really smart people in the group and sometimes someone will say something really compelling that just kind of flies by in the conversation, you know? And then I'll look at my notes later and find it.
What have you found to be permanent this year in the midst of so much change and loss?
I've been really grateful to be able to go to my studio. I've been going almost five days a week, at least after the initial lockdown. That feels permanent. Walking my dog and throwing balls for her has also sustained me. I read a lot. I've been gardening. Back in April I decided that every night when I ate dinner, I was going to take one of my art books and just look at it, because I have this vast library of books, and I could take it as an opportunity to see which ones I really wanted to keep and which I could get rid of. I did that for a little while and I got rid of a couple of books. But it's boring. I'm bored with myself. I'm an internal person but I also like having conversations with people and seeing people. I have a monk-like little life, so, in some ways quarantine didn't change that much for me. But in other ways it really did. Spontaneity is impossible, everything feels very prescriptive and very regimented. And for many people it's scary. I'm kind of dreading the winter. I think it's going to be hard.
What are your hopes and fears for the current moment and the immediate future?

My fears are about the election and Donald Trump. I hope he doesn't win, but I'm also fearful of what happens if he loses. I'm really fearful about the climate and the planet. Personally, I'm also worried about the winter and being lonely and getting older and being on your own. It's hard. My hope… well, every day is different you have to be open to the small surprises of the day. Sometimes I just ask for newness and ask for things to shift a little bit and they do. What I've learned from having a meditation practice is that feelings are not thoughts and that feelings keep moving. And things keep shifting. Even though we hate it, change is the only thing that's an absolute. My hope is that I'll be able to travel again and that the people I love in the big world stay safe and my dog stays safe. I wish that people had enough to eat and could be healthy all over the world. That we would be able to understand that we need to be working together instead of working in opposition to each other. And maybe, somehow, magically, we would wake up and our brains would be rebooted.
Annie Silverman is a printmaker and visual artist whose work has been exhibited and collected nationally andinternationally, most recently at the at the IPCNY: International Print Center New York. She is the proprietor of ABRAZOSPRESS, a professional and teaching print studio in Somerville, MA. Annie has participated in the Vision Lab since its inception, and created printed gifts for audience members at the Vision Lab's events for the exhibitions MEASURE (AnnaVon Merton) and Unknown and Solitary Seas (Dreams and Emotions of the 19th Century) by Dario Robleto, during theGallery Performance Series at the Radcliffe University Gallery,in Cambridge, MA. during 2018 and 2019.