---
Saluting the Beauties
Commissioned performance at Radcliffe Institute for Advanced Study for the Radcliffe Gallery Series, in conversation with exhibition by Willie Cole

Cambridge, MA, 2019


Vision Lab presents "Unbounded: A Salute to the Beauties," in conversation with sculptor Willie Cole's "Beauties," which specifically invokes black women, mothers and mothers dispossessed, from his great-grandmother's generation: Anna Mae, Calpurnia, Queen, and Saphire are four of the twenty-eight prints. Black women have long been subject to yield to the submission demanded by law, the incursions of dominant touch. Cole's series renders material the violence of this touch. He hammers ironing boards against the earth to thin the objects to a width of four centimeters. Cole and an ensemble of printmakers then ink the nearly pulverized, thin-shouldered forms and run them through the press. Vision Lab features guest curator Karlene Griffiths Sekou and artists Azmera Hammouri-Davis, capoeira and poetry artist, and co-founder of Break the Box; Butana Molefe, a South African drummer and vocal artist, Kythe Heller, Michelle Bentsman, and Andrew Staffer, and special interview with Jovonna Jones, historian and theorist of race, aesthetics, and culture in the United States, who describes her role as being committed to black space wherever we find and create it.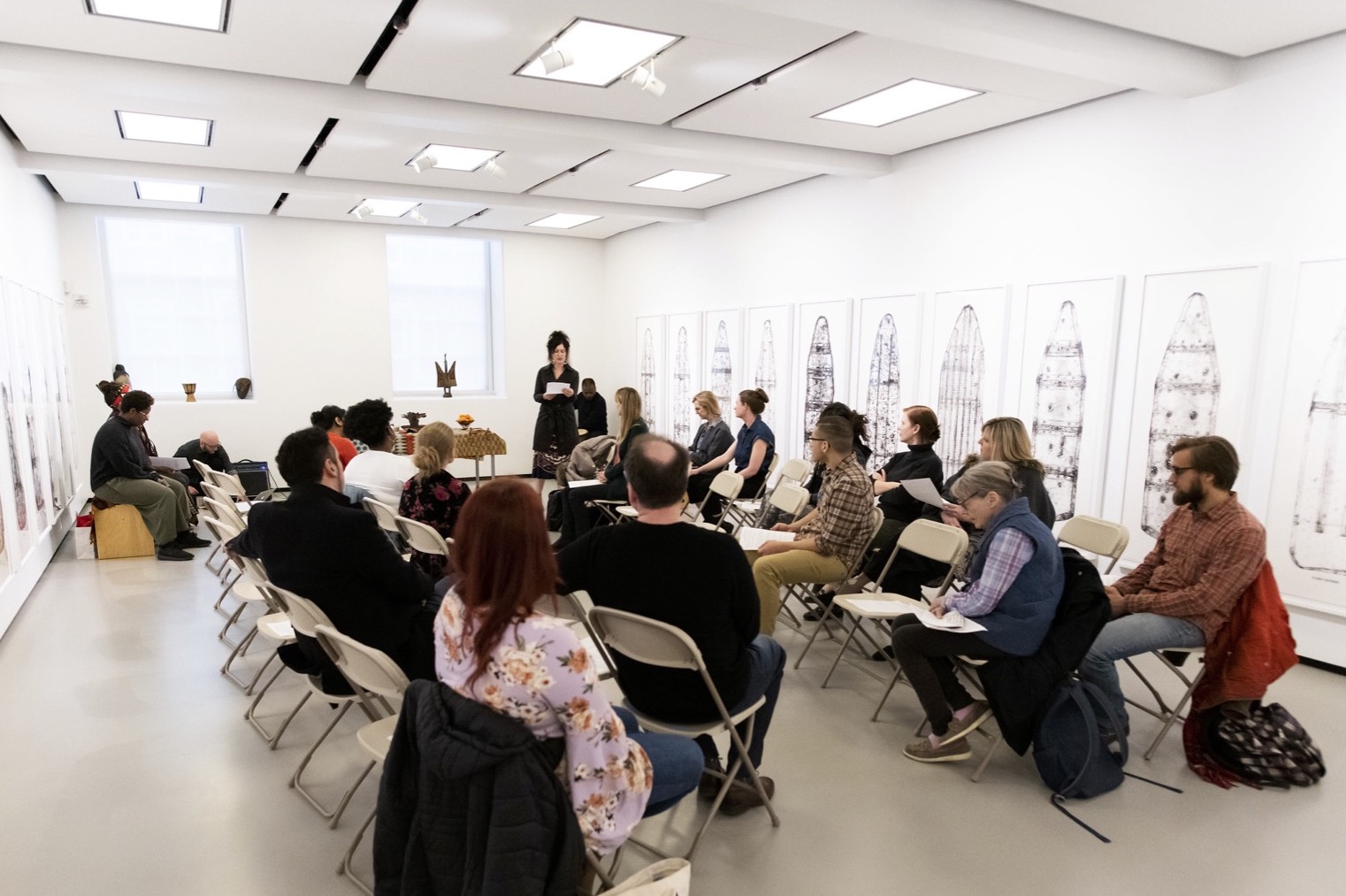 Rev. Karlene Griffiths Sekou is an international public speaker, preacher, scholar, and has over twenty-years of experience working in grassroots community organizing and development, human rights advocacy, health equity, and cultural regeneration. Her experiences as a public and international health professional includes senior level program administration, HIV and AIDS prevention, women's health, design and diffusion of effective behavioral interventions, youth engagement, maternal and child health, and international program development. Ms. Griffiths Sekou currently provides Consultancy to organizations committed to creating internal and external cultures of justice and equity using a framework of cultural regeneration, and training and facilitation in organizational ethics. She holds an MPH from Boston University School of Public Health, an MTS from Vanderbilt Divinity School, an MDIV from Harvard Divinity School, and is currently a PhD student in Religion, Gender, and Culture at Harvard University. Her research intersects gender, ritual, performance aesthetics, and political identity formation through and within social movements.
Azmera Hammouri-Davis, MTS was appointed Africana Spirituality Advisor in September 2020. In this role, Azmera offers mentorship and guidance to students of African descent, supporting socio-emotional and spiritual needs and connecting them with resources that nourish their curiosity around Black spiritual life on campus. You can schedule with her by following this link to her Calendly. Prior to Tufts, Hammouri-Davis worked in higher education for eight years, beginning as a residential advisor for the Center for Black Culture and Student Affairs at the University of Southern California(USC) and continuing as a Director of summer residential programs for underrepresented and low-income students through the SMASH program at UC Berkeley before arriving at Harvard. While completing her Master of Theological Studies focused on African/American religions, she served as a Diversity and Explorations Assistant with Harvard Divinity School and Race Relations proctor for the Dean of Students First-year Experience office. Hammouri-Davis received a B.A. in Visual and Performing Arts Critical Studies and B.A. in Social Sciences Psychology from the University of Southern California. When she was seven years old her mother introduced her to the Afro-Brazilian martial art of Capoeira and ever since her life has been dedicated to Afro-Diasporic cultural education for liberation. She was awarded a Fulbright Creative and Performing Arts research fellowship in 2017-2018 where she studied the Afro-indigenous origins of Capoeira in its birthplace -- Salvador Bahia, Brazil and attended the Federal University of Bahia. Fluent in portuguese Azmera provides pastoral care among grass-roots organizations around the world through translation, embodied storytelling and non-violent communication workshops and classes.
Jovonna Jones is a PhD candidate in African & African American Studies at Harvard University, with a secondary field in Studies of Women, Gender, and Sexuality. Her research interests include social and cultural history, African American art and cultural production, visual studies, ethics and aesthetics, and feminist theory and criticism. Jovonna's dissertation traces the historical and imagined presence of black women within American urban housing discourses of the mid-20th century, from federal policy to visual culture. She has served as a teaching fellow for courses on African American history, black radical movement, and race, gender, and performance. Jovonna is an incoming graduate fellow at the Edmond J. Safra Center for Ethics, where she will be working on her dissertation for the 2020-2021 year. In addition to research and teaching, Jovonna works at the intersection of archives, public pedagogy, and art institutions. She has held graduate internships and fellowships at The Morgan Library and Museum, the Cleveland Museum of Art, and the Harvard Art Museums. From 2019-2020, she facilitated The Black Studies Reading Room: monthly public study sessions on Black art, literature, and thought, held at Tufts University Art Galleries and Trident Booksellers & Café in Boston, MA. Jovonna holds a B.A. in African American Studies from Emory University, where she was Mellon Mays Undergraduate Fellow.
Butana Molefe I was born in Soweto at the height of apartheid, at a tender age, I became aware and sensitive of the needs of marginalized and neglected communities. I am inspired by positive change. I strive to create and nature spaces of dialogue, where people from diverse backgrounds can find common understanding. Through years of training I have cultivated capacity to draw on people's experiences and facilitate processes that assist those individuals realize their urgency and involvement in finding possible solutions for their societal ills. Never retreat to a simple answer or explanation, yet comfortable dealing with ambiguity. My involvement and fascination with community based organizations, and their social involvement have taught me skills for deep analysis which allow me to be a scholar for life.
Kythe Heller is a poet, essayist, performer, filmmaker, and doctoral student in the Committee on the Study of Religion at Harvard University, with a secondary field through Visual and Environmental Studies/Social Anthropology in Critical Arts and Media Practice. Her creative practice and research resonate with a matrix of philosophical, aesthetic, and theological sources, in which traditional wisdom and meditative traditions intersect with poetry, performance, documentary film, and ethnography and are shaped by the dynamic interface of subjectivity and language – the wound and the word -- and inquire into the incarnational and the transformational. In what ways can our writings become sites of evolution, sites of resistance, parts of an array of realizing new social and ecological relationships by considering how to use language to radically change our way of being in the world? She is author of the two poetry collections, The Book of Fire and Immolation and is a recipient of grants and fellowships from Harvard University, The MacDowell Colony, Vermont Studio Center, Virginia Center for the Creative Arts, Squaw Valley Community of Writers, and the Laurels Foundation/PSU. Recent film and multimedia work has been presented at the Harvard Film Studies Center, SEEDS Festival/ Earthdance, Sonoma State University, WAXworks (NYC), BAX (NYC), Virginia Center for the Creative Arts, and in various collaborations and street performances in NYC and elsewhere. She has taught contemporary poetics, religion, literature, arts and media courses at Harvard University, Sarah Lawrence College, Bard Prison Initiative, and Hofstra University, as well as in the Language and Thinking Program at Bard College.
kytheheller.com
.

Michelle Bentsman is a movement artist and doctoral student in the Committee on the Study of Religion at Harvard University. She studies Gaga, Haitian dance, West African dance, and Butoh in the Boston area. Michelle has performed at the Isabella Stewart Gardner Museum, mobius, JCC Manhattan, and the Art Institute of Chicago. Her scholarship focuses on cross-cultural healing songs, plant medicine, end-of-life care, and ritual performance.


Andrew Stauffer is a musician, sound artist, and HDS alumnus based in the Okanagan, British Columbia. My creative process for RECRORDAR involved exploring animistic understandings of objects in the world and different ways of translating and interpreting information. I am interested in how spirit or life force can be shared, expressed, or transferred to and from both people and objects. For my recordings, I looked specifically at Robleto's waveforms of perfect mental repose and religious guilt. I wanted to explore the waveforms not as two-dimensional representations of pulse, but as three-dimensional lines that are followed through time. My recordings aim to capture not only the underlying pulse of each waveform but the smooth, shimmering movement of Robleto's mysterious sculptures themselves. How does Bertino's pulse/ life force/spirit transfer from him to waveforms to Robleto's sculptures, and eventually to my recordings inspired by the waveforms? What, if anything, is transferred? What is gained and what is lost?