(above) Image Courtesy of One Square Inch of Silence
---
Inside Out / Outside In: Social and Environmental Justice and Spiritual Practice
Vision Lab in residence at Center for the Study of World Religions, Harvard Divinity School

Cambridge, MA, 2018


What is a "sacred place" and how does it come into being? How do our complex stories and histories of violence shape how we encounter each other and how we encounter spaces that might be described as "sacred"? How might a sacred place be created or protected or expanded or re-designed? What is "silence" and how does it relate to spirituality? What is the role of silence in your life and how does silence relate to socially and environmentally engaged activism? What is the relationship between what we make, what we buy, and what we believe? What is the relationship between spirituality and the marketplace? Between spirituality and sexuality? And more.
We're thrilled to present interactive talks, conversations, and provocations with: Prathima Muniyappa, an architect at the Harvard Design School who is interested in creating a new religious/spiritual sensibility to address the built environment without dualities. She will offer thoughts on how to repair destroyed villages in Northern India and address questions around how to repair or re-imagine sacred groves: "How can myth be designed?" Tim Gallati, a sound artist and graduating MDiv at Harvard Divinity School, will engage us in discussing experiences of "silence" in nature and contemplative practice with applications in virtual and augmented realities. His research focuses on accounts of listening to "silence" in sound art, particularly the project One Square Inch of Silence in Olympic Nat'l Park, and has led him to long-term residences at two Trappist monasteries. Greer Simpkins Epstein, a socially-engaged lingerie designer and feminist entrepreneur of Hello Beautiful, offers insights into the fashion world and how to re-imagine how women see themselves, how business practice and product materials can be ethically engaged and environmentally sourced, and the lines of connection between spirituality, sexuality, our personal lives and consumer choices, and manufacturing.
RSVP to kytheheller@gmail.com. Wednesday, April 4, 6-8pm, kindly hosted by the Center for the Study of World Religions at Harvard Divinity School, 42 Francis Ave. Cambridge.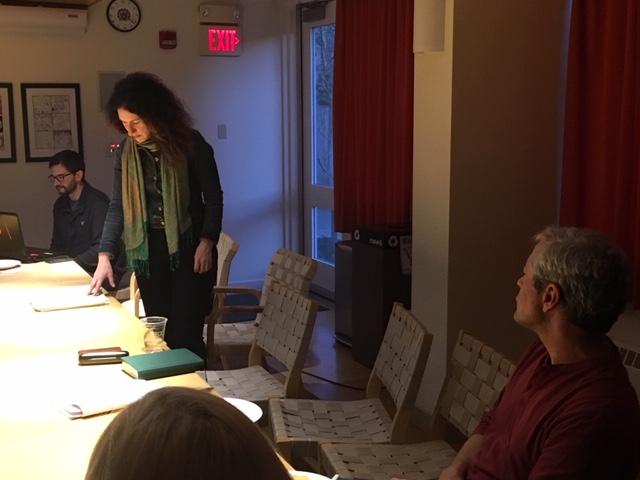 Prathima Muniyappa: student at Harvard Design School. Interested in conservation issues and the dissolution of disciplinary boundaries. Especially interested in removing dualities between nature conservation and built environmental outcomes, and in linking appropriate environmental design with spirituality. Current project involves a collaboration to repair destroyed cities in India and the question of how to repair or rebuild sacred groves. "How can myth be designed?" A new religious sensibility is needed to address the built environment without dualities.
Tim Gallati
Zain Alam: Musician (singer in Humeysha) and inter-disciplinary writer/artist; MTS student at the Divinity School in Islamic Studies and S. Asian Diaspora; Interested in the transformative potential of moments of deep insight in music and poetry, and in inter-disciplinary playfulness with established forms. Currently creating music/video around archives of Pakistan/India 1947 Partition.


Greer Simpkins
Kythe Heller is a poet, artist, and doctoral student in Comparative Religion at Harvard University, with a secondary field in Critical Media Studies. She is author of the poetry collections Immolation and The Thunder Perfect Mind, and of critical studies published in White Light: Media, Culture, Politics (Cambridge UP) and Quo Anima: Innovation and Spirituality in Contemporary Poetry (U of Akron Press).