---
Divination by Starlight
Commissioned performance at Radcliffe Institute for Advanced Study for the Radcliffe Gallery Series, in conversation with exhibition by Anna Von Mertens, "Measure"

Cambridge, MA, 2019


A creative and performative discussion of spiritual, intellectual, artistic, and environmental possibilities inspired by the exhibition. Anna Von Mertens' "Measure" uses the structures of quilting and drawing to examine the frontiers of human understanding. In this exhibition commissioned for the Radcliffe Institute, Von Mertens explores the life and work of Henrietta Leavitt, one of the women "computers" hired a century ago to study glass-plate astronomical photographs at the Harvard College Observatory. Leavitt searched for patterns among these glassy stars, and her findings provided a unit of measurement for galactic distances and led to our current understanding of the shape of the cosmos. Von Mertens's meticulous stitches and intricate graphite marks reimagine Leavitt's patient work, exploring the potency of single, measured actions as units of understanding.
Anna Von Mertens' "Measure," photographed by Cecile Guédon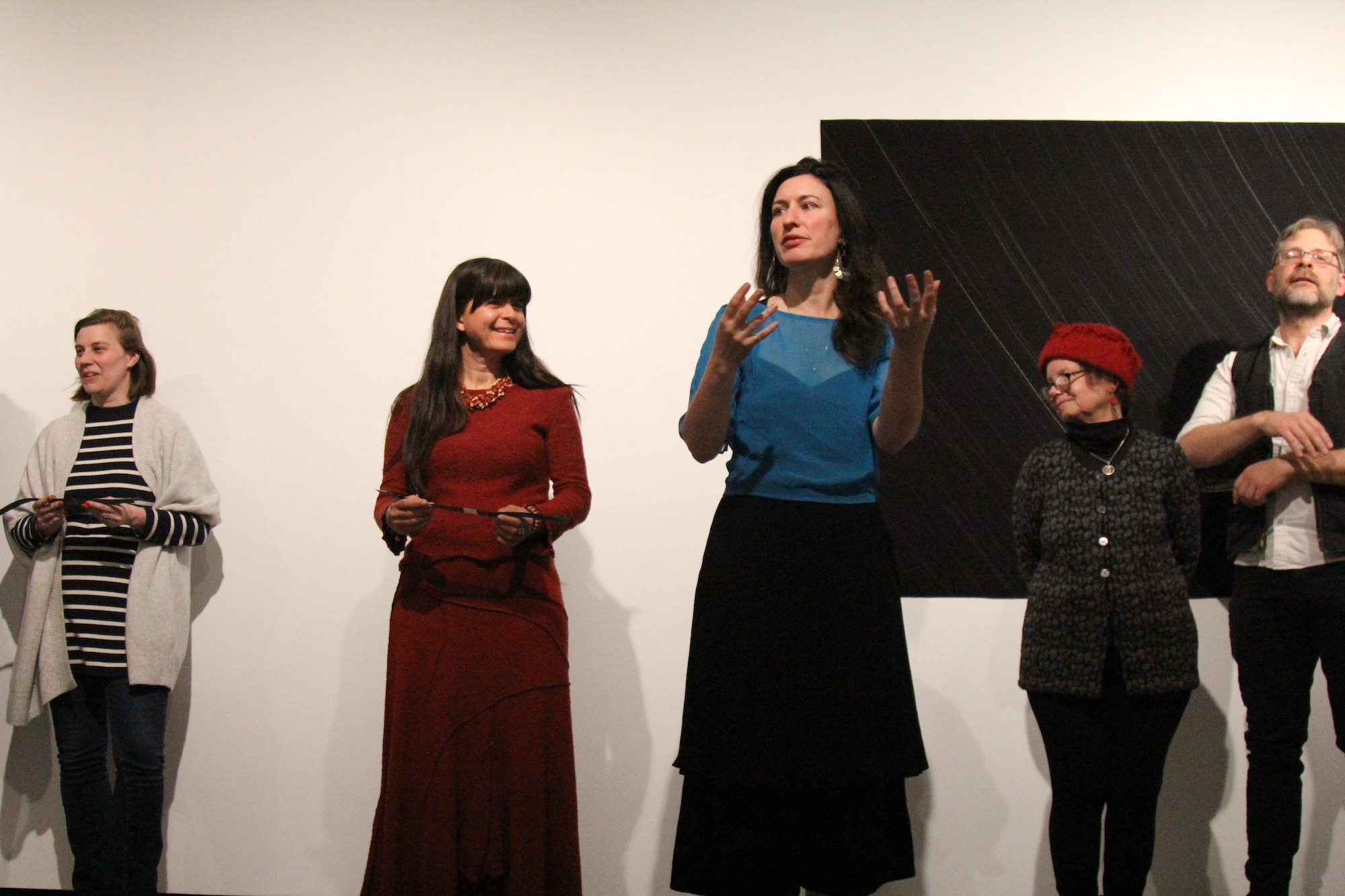 Biliana Angelova, M.A, MEd, RYT 200 is a certified Kundalini Yoga instructor, psychotherapist and yoga therapist, with expertise in yoga, mindfulness, and meditation research. She serves both the general public and varied patient populations, including those in the Benson-Henry Mind Body Institute at Massachusetts General Hospital and at the Center for Anxiety Studies at Boston University.
Associate Director of metaLAB (at) Harvard, Matthew Battles is a writer and artist exploring memory and meaning in more-than-human worlds. His most recent books are Palimpsest: A History of the Written Word (Norton, 2016) and Tree (Bloomsbury 2017).
Michelle Bentsman is a movement artist, writer, and doctoral student exploring expressive healing and end-of-life care in the Committee on the Study of Religion at Harvard University.
Matthew Blumberg likes to make stuff up.
Vocalist, scholar, and composer Ganavya Doraiswamy has carved a niche for herself at the nexus of South Indian vocal styles and contemporary music, performing her work and touring internationally. She is a doctoral student in the Creative Practice and Critical Inquiry Program of the Music Department at Harvard University.
Cécile Guédon is a Visiting Lecturer in Theatre, Dance and Media and a Research Associate in Comparative Literature at Harvard University (2018-2019). Her first monograph Abstraction in Motion: A Choreographic Approach to Modernism is currently undergoing revisions (2018); she is also working on her second book project on improvisation and embodiment.
Annie Silverman is a printmaker and book artist living in Somerville, Ma. She is the proprietor of Abrazos Press, a teaching and professional printshop in Somerville. Her prints and books are exhibited nationally and internationally, most recently in Groningen, Netherlands.
abrazospress.com
Andrew Stauffer is a percussionist with a background in philosophy and religious studies (Harvard Divinity School), and a deep appreciation for interdisciplinary collaboration. He is currently a Program Director at One Bead, where he runs service-learning programs for Boston-area youth.
Tim Wojcik is a media artist whose work explores the immediate and the impermanent through sound, film, and interactivity. He currently teaches film production at Emerson College.
Kythe Heller is a poet, artist, and doctoral student in Comparative Religion at Harvard University, with a secondary field in Critical Media Studies. She is author of the poetry collections Immolation and The Thunder Perfect Mind, and of critical studies published in White Light: Media, Culture, Politics (Cambridge UP) and Quo Anima: Innovation and Spirituality in Contemporary Poetry (U of Akron Press).